Mango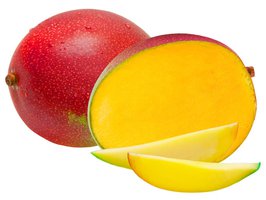 Mangoes are readily available almost throughout the year. They can either be eaten plain or cut up into pieces then added to the main dish, fruit salads and flour mixtures before baking.
Mangoes contain more than 20 different minerals and vitamins, making it a superfood. A mango fruit is a source of dietary fibre which is very important in digestion. Eating mangoes help to cure and prevent dietary constipation.
Vitamin A helps the eyes to see better.
Vitamin B6 controls blood vessel function keeping off stroke and coronary artery disease (CAD)
Vitamin C gives the immune system strength  to fight off disease
Potassium helps to balance our blood pressure and heart rate
Copper helps our bodies to make enough blood to keep us healthy
Mangoes also contain enzymes that help us to break down proteins.