Growing Coriander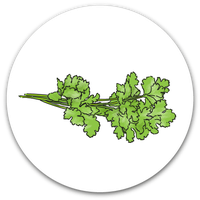 Planting
To make the soil light for planting, add well-composted manure and plough to a depth of 2-3 inches.  Plant seeds 1-2 inches apart.   
Management
Coriander plants need to stay watered when they are growing. They require at least 1 inch of water. 

Mulching should be introduced as soon as the plants emerge above the surface of the soil so as to prevent weeds. 

Remove any debris and dead plants from the garden regularly to keep off wilt and mildew.

To ensure a constant supply of coriander, it is advisable to sow new plants every 2-3 weeks. 

Harvesting
The first leaves can be harvested after 3 or 4 weeks from planting:
Start harvesting seeds when most have turned from a green to a greyish tan colour.
Harvest by cutting the stems. Cut individual leaves from the stalk for large leaves and 1.5 - 2 inches above the crown for smaller leaves.
Once this is done, gather them together into a bunch using a rubber band.
The bunch should then be hung in a warm, dry place for 2-3 weeks for complete drying.   
Click here to download a detailed guide on growing coriander.