Beef Stew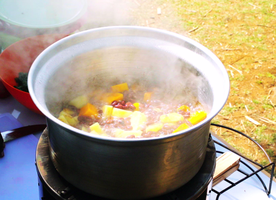 Ingredients
1/2 kg beef
2 cloves garlic
1 papaya
Red beans (maharagwe)
Potatoes
Pumpkin
Spinach
tomatoes
Black pepper & salt
Cooking oil
Method
For the marinade finely chop one papaya, 2 cloves garlic, a pinch of salt, one tablespoon cooking oil.
Cut the beef into cubes, and mix into the papaya to tenderise the meat, leave for at least half an hour.
Once tender cook up in a large pot until the meat is cooked through thoroughly
In one pot boil red beans, cubed potatoes and pumpkin until soft, then mash all together.
Finely chop spinach and tomatoes, fry quickly in saucepan. Make sure not to cook for too long so that you keep all the good nutrients.