Fried Mitoo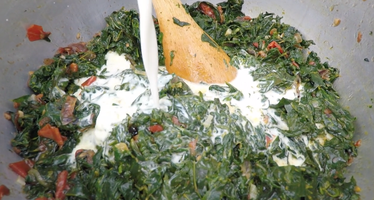 Ingredients

Mitoo
Bean cones
Cooking oil
Garlic
Onions
Tomatoes
Milk
Onions
Garlic
Ginger
Method
Burn the bean cones and mix the the ash with water, stirring as you go, then sieve to get the ash solution.
Boil a little water and add the ash solution and then the mitoo.
Cover for 3-4 minutes until the mitoo softens.
Heat some oil in a separate pan and add onions, garlic, ginger and tomato. Fry.
Finally, add the mitoo along with a a genorous amount of milk.
Serve!