Chicken Chapati Roll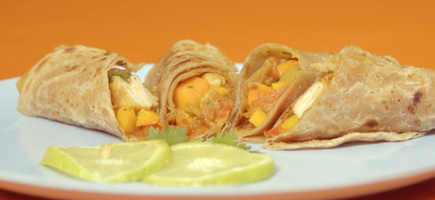 Ingredients

Chicken breasts
Tomatoes
Cooking oil
Chapatis
Salt
Turmeric
Ginger 
Garlic
Coriander
Onions
Pepper
Carrots
Method
Chop the chicken into small pieces and cook in a pan with oil.

Add a dash of pepper and turmeric to the chicken and then place the chicken to the side when it has cooked.
Fry one chopped onion. Add some ginger, a dash of garlic, a pinch of salt, chopped tomatoes, and two chopped carrots.
Add the chicken to the mixture followed by a sprinkle of fresh coriander and mix the ingredients well.
Place the chicken mixture into a chapati, roll it up, and slice the chapati in half.
Serve!