Meat and Matoke Stew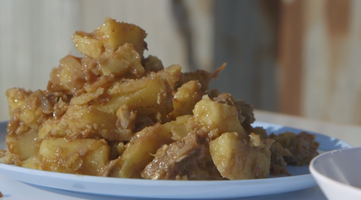 Ingredients

Meat
Matoke
Paw paw
Garlic
Ginger
Onions
Tomatoes
Method
Cut the meat into small pieces and tenderise with some paw paw.
Mix  some chopped garlic and  ginger with meat and leave for 15 minutes to marinate.
In a pan, heat some oil, and fry the onions until translucent. Then add some diced tomatoes.
Add the meat, and leave to cook for 20 minutes while the matoke is boiling.
Once the matoke has softened up,add it to the meat and squeeze in some lemon juice.

Serve!