Peas and Potato Cutlets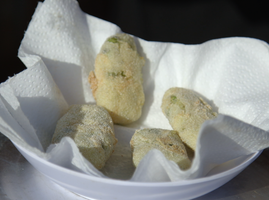 Ingredients

Potatoes
Peas
Pepper
Salt
Egg
Flour
Method
Boil potatoes and peas together until they are soft
Once soft, mash them, add salt and pepper, and mix to combine.
Break an egg and beat it. Make an oval shape from the mash and dip it in the egg and then coat in flour.
Fry the oval shaped mash in some oil. The final product should be golden and crusted on the outside and soft on the inside.