Pumpkin and Split Pea Stew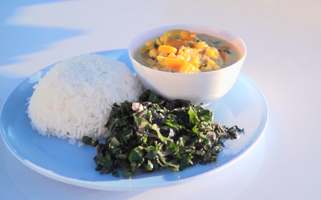 Ingredients
Pumpkin, cut into cubes
Split peas
Carrots
Goats milk
Green onions
Garlic
1 teaspoon Garam masala powder
Salt & pepper
Oil
Method
Heat a pan of oil and add some green onions. Add in the garlic and cook until it is fragrant.
Add a teaspoon of garam masala and stir.
Add in the pumpkin cubes. Make sure they are evenly coated with the spice mix and cover the pan. Leave the pumpkin to cook for 5 minutes, until they are soft and brown.
Add the split peas, carrots and, a pinch of salt and black pepper.
Then add the milk and water, cover the pan, and let it simmer for about 15 minutes.
Serve with boiled rice and steamed spinach.