Chicken with Green Peas and Matoke Ugali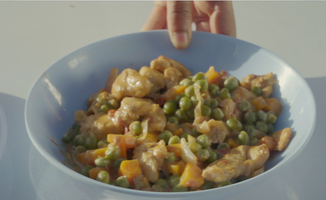 Ingredients
Chicken cubes
6 pieces of Matoke
Green peas
Onions
1 teaspoon of Paprika
Tomatoes
Garlic
Carrots
Natural yoghurt
Salt & pepper
Oil
Coriander
Spinach
Maize flour
Method
Boil the green peas in salted water for a few minutes. Drain and put aside.
In a pan, put a little oil and let it heat. Apply paprika on the chicken cubes and fry each side for 2 minutes until brown. Put aside.
In the same pan, add chopped onions, and garlic.Fry them and add carrots and tomatoes, and cook until they are tender. Add a pinch of salt and the yoghurt. Once mixed, add the chicken and peas. Simmer for 5 minutes.
Peel and chop the matoke then boil in salted water for 10-15 minutes until soft. Drain the water into a bowl and mash them.
Return the mashed matoke to the stove. Add some hot water and some flour to make ugali with the mash.
Serve the chicken stew and matoke ugali with steamed spinach.