Matoke Balls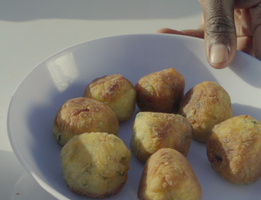 Ingredients
Matoke
Green peas
Garlic
Coriander
1 Onion
1 Egg
Flour
Oil
Method
Cut the matoke in half and boil them in water for 10 to 15 minutes.
Once soft, drain the water and mash the matoke. Let it cool for a few minutes
Add a bit of chopped garlic, onion and a handful of peas. Then chop some coriander and add it as well.
Beat an egg, and at it to the mix so that it binds the ingredients. Mix well.
Heat a pan of oil. Take a palm-size of the mixture and roll it into a ball. Dip it into the flour. 
Fry the ball on one side for about two minutes and then turn it over and cook the other side for about two minutes, until the balls are golden in colour.
Remove from the pan and drain the oil with kitchen paper. Serve!