Vegetable Korma with Potatoes, Pumpkin and Eggs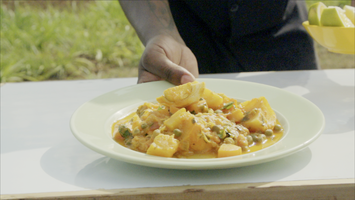 Ingredients
Potatoes
Pumpkin
Eggs
Tomato paste
Tomatoes
Spring onions
Carrots
Garlic
Ginger
Yoghurt
Green peas
Lemon grass
Coriander (dhania)
Salt
Method
Fry the onions in a pan of oil, and add the garlic and ginger. Once fragrant, add the tomatoes. Stir for a few minutes.
Chop the potatoes and pumpkin into cubes and add them to the pan.
In a separate pan, boil the garden peas. Once boiled add them to the potatoes and pumpkin stew.
Add tomato paste and some water. Boil for 10 minutes.
Add a bit of lemon grass and a cup of yogurt. Simmer for 2-3 minutes.
Boil the eggs and slice them into quarters. Add them to the stew and sprinkle some chopped coriander on top.
Season with some salt.