Potato & Pea Patties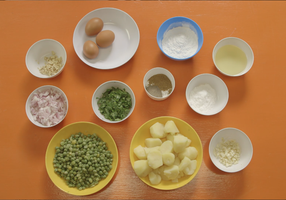 Ingredients

4 large boiled potatoes

½ cup of cooked peas

3 eggs

Wheat flour
1 clove garlic

1 cm fresh ginger 

½ teaspoon garam masala

Black pepper & salt

1 onion 

Coriander (dhania)
Cooking oil
Method
Fry finely chopped onions and garlic in oil. Add a pinch of garam masala, black pepper and salt, then set a aside.
Boil potatoes and peas until soft, mash together with a sprinkle of wheat flour and a generous pinch of fresh coriander.
Mix all of it in with the cooked onions, then roll it out flat and cut into desired shapes.
Heat oil in a pan, and brown the patties on both sides.
Serve!