Sweet Potato Chapatis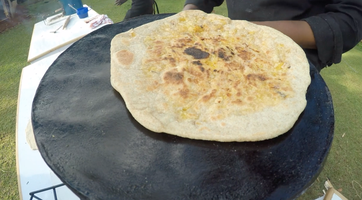 Ingredients

Brown flour

Salt

Sweet potatoes

Ginger

Onions

Garlic

Cooking oil
Method
Create the dough using, brown flour, water and salt. Leave for 20-30 mins covered in a damp cloth.
Peel and boil the sweet potatoes.
Break them up into pieces and place them in a pan with garlic, ginger and onions to fry. Mash the mixture together. 
Once fully mashed, place the sweet potato mixture in the chapati dough. Roll it then fry on a pan, until the chapati begins to develop some brown-black spots.
Serve!