Sweet and Sour Chicken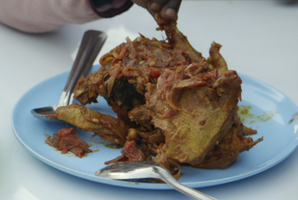 Ingredients
Whole chicken, cut into pieces
Onions
Tomatoes
2 tablespoon of honey
1 tablespoon of finely chopped garlic and ginger
1-2 lemon and limes
1 teaspoon of turmeric
1/2 a teaspoon of black pepper
Salt
Cooking oil
Method
Chop the garlic and ginger.
Fry some onions with a bit of oil and add a tablespoon of the garlic and ginger mix. Add a pinch of salt.
Add the chicken and gently stir so that it begins to brown.
Then add tomatoes and two tablespoon of honey.
Squeeze some lemon and lime juice into the mixture. Ensure that the seeds don't get in as they will make your food bitter.
Add a pinch of salt and stir really well. Then put in your spices – half a teaspoon of turmeric and half a teaspoon of black pepper.
Leave the chicken to cook for the next 15 minutes so the sauce is nice and thick.

Serve with brown ugali and a green leafy vegetable of your choice.