Coconut Fish and Fried Amaranth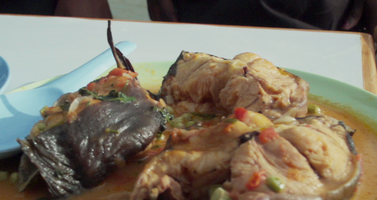 Ingredients

Spring onions

Onions

Ginger

Garlic

Tomatoes

Catfish or any fish

Lemon

Coconut milk

Salt

Peas

Green vegetables
Method
For the fish stew, fry the onions until they are translucent. Add a pinch of garlic, ginger and a heap of tomatoes and fry for at least one minute.
In a separate pan, fry some spring onions and add green vegetables, making sure sure they have been washed. 
Cut the head of the fish off and keep aside to make a soup with later.
Slice up the fish and add lemon juice.
Add coconut milk to the fried vegetables for the stew, then add the fish and some water and salt. Give it time to boil and incorporate for 3 minutes.
Add peas and leave for a further 5 minutes.
Serve!